IES Vs GATE: Things You Should Know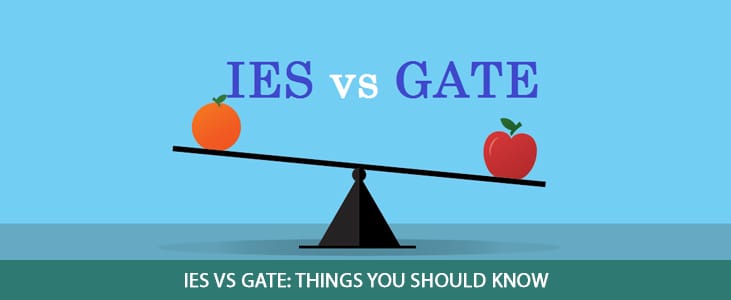 Indubitably, Engineering is one of the most sought-after career options for the youth who wants to make a scintillating career. That's why every year nearly 1.5 million students in India graduate in engineering. Most of these students often face a dilemma regarding whether they should opt for IES or GATE. An engineering student who wants to make a career in the core technical area appears for these two exams.
Both GATE (Graduate Aptitude Test in Engineering) and IES (Indian Engineering Services) are the most applauded and well-known exams among the engineering students. But the opportunities and avenues of these two exams are different and preparation strategies are also different for these two exams. Here, in this article, we are going to give you a deeper analysis of the IES vs GATE exam, so that you can get a clear idea and picturization of these two exams. Also check out the opportunities after GATE exam.
Exam Conducted By Whom
IES exam is conducted by Union Public Service Commission. Every year, this exam is held annually. On the other hand, GATE is a competitive exam which is conducted jointly by 7 IITs (Indian Institutes of Technology) and IISC (Indian Institute of Science, Bangalore). The GATE exam is also conducted every year so that the aspirants get a chance to fulfil their dreams and aims.
Exam Objective
Both IES and GATE exams give lucrative career prospects to the candidates. The GATE exam is ideal for those who want to pursue higher studies like Master's or PhD after completion of their graduation in engineering. If you score well in GATE, you will get a chance to admit in IITs or NIITs or other eminent colleges. IIMs also accept GATE score for their Fellow Management Programmes. If you have a valid GATE score, you will get a job in public sectors. Companies like BHEL, NTPC, BPCL, HPCL, etc. accept GATE score during their selection process.
On the other hand, the IES exam is attended by the aspirants who want to take a government job (Class-I post). IES scores are accepted by many government services like the Indian Railways Service, Indian Defence Services, Indian Naval Armament Services, Indian Telecommunication Services, Indian Ordnance Factories Services, and the Central Water Engineering and Central Power Engineering Service.
Syllabus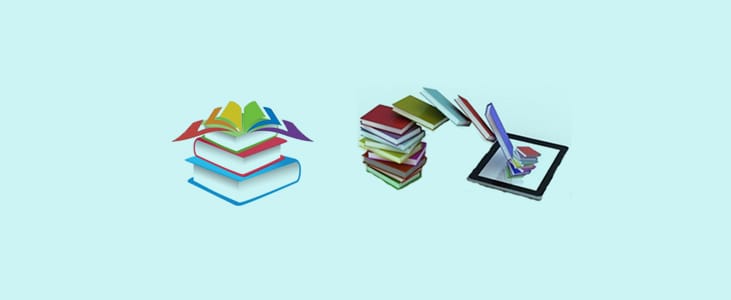 Since we are analysing IES vs GATE in a detailed way, you should take a look at the syllabus of both the exams. Both IES and GATE syllabus have many resemblances which means you don't need to go for double studies.
IES covers the whole engineering syllabus. In this exam, the aspirants are judged for their conceptual abilities. Since the syllabus and paper pattern is wide, you need to do more hard work to crack the exam.
On the other hand, GATE syllabus covers only the important topics which are going to be useful for your higher studies. In this exam, the candidates are tested for their problem-solving abilities. So, smart work is required if you want to crack the GATE exam. Here are the best
Exam Pattern
GATE is an MCQ based exam (multiple choice question) and the time duration is 3 hrs. There are 65 questions and total marks are 100. There are mainly four types of questions are asked in the GATE exam.
> Multiple Choice questions (Section 1)
> Common Data questions (Section 2)
> Linked Answer questions (Section 3)
> Numerical Answer questions (Section 4)
GATE has a total of 23 papers and the candidate should choose the one which is most relevant to his stream of interest.
On the other hand, IES is a lengthy exam and is conducted over 2 days. IES has two stages, one is the preliminary stage which is objective and the second one is the conventional stage which is subjective. There is a cut-off score for the preliminary stage and once you qualify it, you are eligible for the main or the second stage. After the mains, there is an interview session. Once the interview session is over, they will publish the final list. IES preliminary exam consists of two papers.
> One paper is based on core engineering subjects
> The second paper is for general studies
IES main carries two papers of the engineering domain of 30 marks each. The interview session consists of 200 marks.
Difficulty Level
It is true that no competitive exam is easy to crack. But if we consider the difficulty level of both these exams, then the GATE exam is much tougher and critical than the IES exam. You will face many difficulties and need to invest a lot of effort to solve GATE questions than that of IES. Because you need to apply multiple concepts to solve a question that is asked in the GATE exam. So, you should have good problem-solving skills if you want to crack the GATE exam.
Most of the questions that are asked in the IES exam can easily be solved by using a single formula or concept.
Competition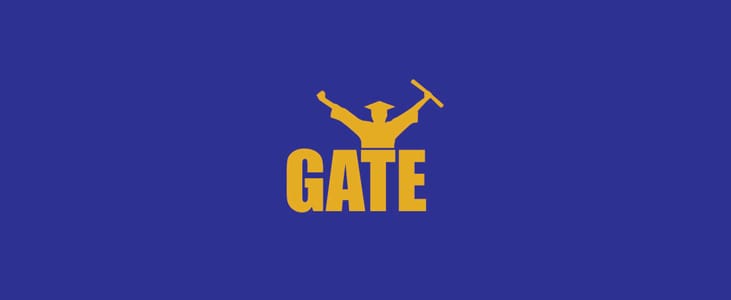 Every year, a plethora of candidates used to appear for both these exams. But the competition level for IES is much tougher than the GATE exam. For IES, the competition ratio in terms of the number of vacancies available versus the number of candidates used to appear for the exam is 1:300.
While on the other hand, GATE is a less competitive exam as compared to IES. The competition ration (in terms of the number of candidates qualifies versus the number of candidates used to appear for the exam) in the GATE exam is nearly 1:10.
It is true that every year a good number of students score well in the GATE exam in their first attempt. But this is not at all true for the IES. Because of the wider syllabus and the exam pattern, only a few can secure good ranks in the IES in their first attempt. Most people usually qualify IES in their 2nd or 3rd attempts.
Exam Preparation Strategy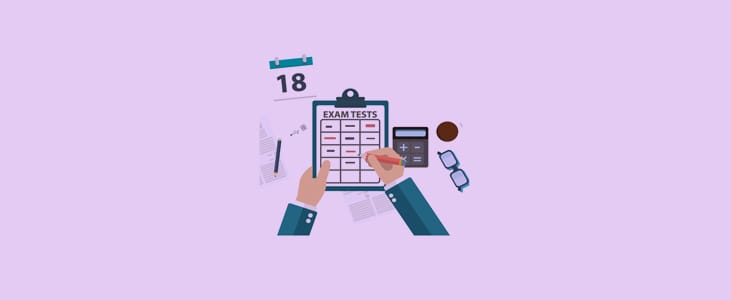 Since we are discussing IES vs GATE, hence, you should discuss the exam preparation strategy for both the exams. Preparation strategies are different for these two.
Speed is the main factor if you want to crack the IES exam. Because, in this exam, you need to solve more questions in less time. There will be 120 questions which you need to solve within 120 minutes. This means 1 minute for each question. You should have a crystal-clear concept for IES as you don't get much time for thinking. Moreover, writing practice is required as the IES exam consists of conventional paper.
But for GATE, your thought process and problem-solving ability are two main factors rather than your speed. Because, here, you will get more time to solve lesser questions. There are 65 questions which you need to solve in 180 minutes. This means you will get 2.5 minutes per question to solve it. So, don't hurry! To crack GATE with flying colours, you need to require concept application ability along with the clear concept. Writing test is not required for the GATE exam as this exam doesn't have any conventional type of paper. Also check out GATE preparation tips.
Eligibility For The Exams
Any engineering student is eligible to appear for both the exam. At present, GATE exam is occurred nearly 23 disciplines including streams for physics, chemistry, and maths graduates.
On the other hand, the IES exam is only held for the core engineering streams (Civil, Electrical, Mechanical, Electronics, and Telecommunication engineering). IES has an upper age limi t of 30 years (in some special categories, it is 35).
Examination Timing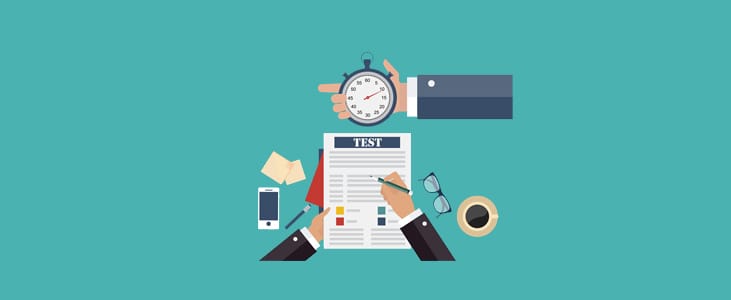 IES is an exam which occurs in two phases.
> Preliminary stage (phase 1) is conducted in the month of January.
> Main (phase 2) is conducted in the month of May.
GATE is an exam which is conducted on one day either in the month of January or February. Since the GATE exam occurs before IES, your preparation is almost done for both the exams. Since GATE covers nearly 70 % of the IES exam syllabus, so, you don't need to take much pressure for your IES once your GATE exam is over. Moreover, a good GATE score also boosts up your confidence level for the upcoming IES exam.
From the above discussion of IES vs GATE, hope you got ample of information regarding both the exams. Both exams embrace you with a chunk of opportunities. IES is attended by lakhs of candidates who have a dream to pursue a government job. While on the other hand, the GATE exam gives you an opportunity to re-live your dream by getting a chance to study in IITs or IISC which you didn't fulfil in your graduate years.
You can also appear for both the exams for your experience as the subjects are similar, though the exam pattern is different. If you follow a smart and robust strategy, then you can crack both the exams with flying colours.
If you want to achieve something exceptional in your life, then there should no ambiguity regarding your career choices. Based on your interest, skills, capabilities, and proficiencies, take a wise decision and follow that. If required, read the above post regarding IES vs GATE and decide which exam will help you to climb on the ladder of success and accordingly, go for that to achieve your dreams.
ARC Foundation is one of the best GATE coaching centres in Kochi. We have a legacy of training aspiring candidates to help them crack GATE and CAT examinations