Top 10 Opportunities That Come Your Way After GATE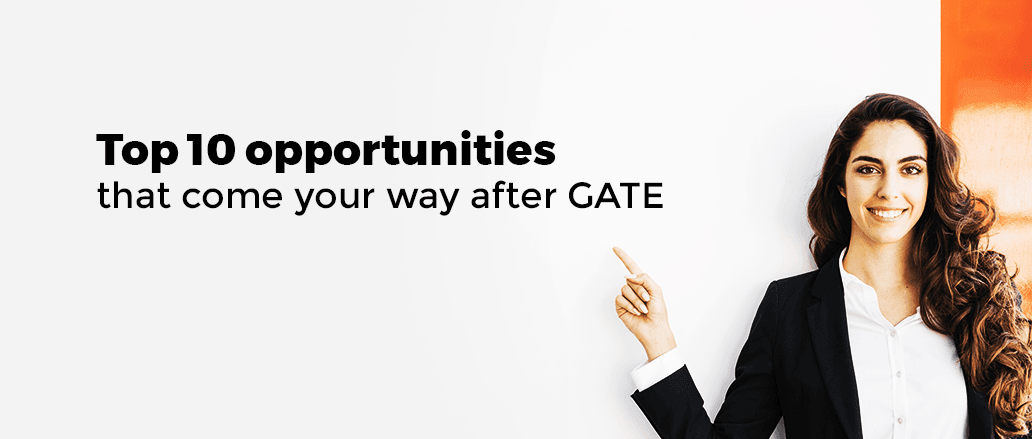 Being a graduate will not ensure you to secure a strong position in this competitive era. If you want an unprecedented career, then you should go for higher studies which will not only boost up your career but also make your future brighter and scintillating. Hence, these days, students are opting for the higher education and are taking preparation for various competitive exams.
GATE (Graduate Aptitude Test in Engineering) is one of the most popular and prestigious competitive exams that mostly all students appear, who are aware of the various available opportunities after gate exam. All the science and engineering students those who want to pursue a higher degree such as M.Tech, ME or post-graduate degree in their respective subjects. Every year all the aspiring students of science and engineering across the country are gearing up for GATE so that they can enrol themselves in the IITs and other prestigious institutes and can kickstart their career in a good way. The key benefit of GATE exam is that if they score well in the exam, then they are eligible to select their institutes on the basis of their score. Here are some of the best GATE preparation tips.
Usually, every year the Indian Institute of Science and seven Indian Institute of Technology jointly conduct this exam. A student can attempt the GATE exam in any number of times if the basic criteria are fulfilled by the candidate. If you crack this exam with a good score, then you will be blessed with numerous opportunities after GATE exam.
Let's take a look some of the benefits of qualifying GATE exam:
You will get a chunk of options after qualifying your GATE exam. Let's dig out how can you make an unprecedented career after cracking this exam or what is the use of GATE exam?
1.You can go for higher studies:
If you cleared gate with an astounding score, the best opportunity after gate exam is that you can go for M.Tech or ME in some prestigious institutes like IITs, NIT or IISC. . Based on your specialization, GATE score and academic interests you can choose your favourite institutes. Generally, top-notch engineering institutes accept ranks up to 1500, on the other hand, private and other government engineering colleges accept ranks up to 2500 or above. If your rank is high and your score is good, then you should be entitled to stipend and other benefits during your two years of masters. After successful completion of your M.Tech or ME, you will be blessed with some attractive packages from the companies. The salary range can vary from eight lakhs to thirty lakhs per year. If you have a dream of studying in IITs, then by using your GATE score card you can fulfil your dream.
Let check out GATE Chemical Engineering preparation.
2. Research:
Your GATE score is validated for two years. If you are zealous about your subject and want to explore new things, then after completion of your M.Tech or ME, you can also opt for research, Junior Research Fellowship in CSIR Laboratories. Research is an area which is not developed properly in our country explored though it holds great promise. A very few people get attracted by research and development as they think it is a time-consuming and laborious endeavor in our country. That's why they go to the foreign countries for a better prospect and future. But why should you go to a foreign university and do research while also having to struggle with part-time jobs to meet expenses? You can do the same outstanding and path-breaking researches in your own country and simultaneously can earn a hefty stipend for that. Isn't a good option for you? By doing research in your own country, you can make your country and people proud. Not only that, after the initial few years of struggle, you can get a healthy and prosperous life with a stable economic condition.
Checkout here to know everything about how to crack GATE exam.
3. You can join foreign universities after your GATE exam:
Another great benefit of qualifying GATE exam is that you want to pursue your higher study from foreign universities, then a valid GATE score will help you to fulfill your dream. If you want to pursue your higher study from foreign universities, then a valid GATE score will help you to fulfill your dream. In Singapore, a valid and good GATE score is a great parameter for admission to the prodigious universities. If your percentile is 90 or above, you can get an admission in National University of Singapore(NUS) and Nanyang Technological University (NTU, Singapore) and pursue your Master degree in Engineering from these universities. The GATE examination is one of the most effective ways to achieve a combination of an exciting career with job security. Your GATE score will help you to pursue all your dreams and will help you to make a scintillating career in your subject. So, make a hard work for your GATE exam preparation and can get one step closer to your dream. Apart from Singapore, many other universities of different countries also encourage the students who have a great GATE score. So, the use of GATE scorecard is simply unfathomable.
4. Job opportunities:
Undoubtedly the benefit of qualifying GATE exam in job's perspective is that if you have pursued M.Tech or ME through GATE examination, then you will be blessed with a chunk of good job opportunities from many reputed companies.
5. Private sector:
Companies who are in the private sector are preferring candidates who have completed ME or M.Tech through GATE exam. Firms like Google, Samsung, Tata, Maruti, Cisco, and several other eminent companies pick engineering candidates holding a Masters-level qualification. If you want to explore your career options after qualifying GATE and doing M-Tech in engineering, then many companies will hire you by offering some lucrative salary packages that a B-Tech degree cannot help you to fetch such an amount.
6. PSU sectors:
Another great benefit of GATE exam is that the candidates who did M.Tech or ME with a valid Gate score may also get the offers from PSUs. The candidates who did M.Tech or ME through a valid Gate score may also get the offers from PSUs. These days many PSUs are hiring candidates with good GATE scores. BHEL, IOCL, ONGC, SAIL, NTPC, HPCL, PGCIL, BARC and over 200 more PSUs present in the country consider GATE scores as a satisfactory criterion in their recruitment process. A job in a PSU ensures you keep in touch with exciting and intriguing engineering advances while enjoying the security and perks of a Govt. Salary. You can also get promoted once you perform well. Working on a PSU will not only help you to lead an affluent life but also you will get an opportunity to serve your country.
7. Teaching job:
Nowadays, many educational institutes and universities often recruit postgraduate engineering candidates from campuses. If you are looking for an academic career option after your ME or M-Tech, then you can apply for the faculty positions in many universities and eminent colleges. You can be a lecturer or professor as per your qualifications or academic performances. In India, many private institutes used to prepare aspiring candidates for the GATE exam. You can also take up a teaching job at such institutes and can earn a high salary as GATE instructor or mentor.
8. In Foreign companies:
You can even try your luck in foreign companies after your M.Tech or ME if you want to settle abroad and make a bright career there. As GATE is considered while admitting you in a postgraduate course in a foreign university, it can also offer an advantage while you are looking for a job in a foreign firm.
9. 100 percent job assurance:
A master degree candidate will certainly get more job opportunities than a graduate candidate. Many companies are showing their inclination in hiring M.Tech or ME students during the placement. You can get an opportunity for a technical job profile which will help you to fulfil your dream. So, GATE qualified candidates will get 200% job placement during their academic years.
Check out the best learning apps for GATE examination.
10. Opportunities for sponsorship:
If you can get an opportunity to work with pre-eminent government bodies like DRDO, ISRO, BARC, Doordarshan, IAF, INDIAN NAVY and Army etc, then a good GATE score will make you eligible for their sponsorship programs. If you get a sponsorship, then it will continue for two years. Usually, the sponsorship comes with a caveat that you need to work for those organizations for a few years after completion of your M.Tech or ME. But if you have valid GATE score, then you will be eligible for more benefits.
The benefits of qualifying GATE exam are fathomless and thus, it cannot be explained in only a few words. If you want to possess a wholesome and affluent life, then your GATE score will take you far ahead of your competitors. So, without wasting your time, take a solid preparation for your upcoming GATE exam. There are many institutes which will offer you GATE training sessions and effective study materials, hence try to contact them if you want to reach the zenith of success.
Are you planning to crack the GATE Examination this year? Then you must enroll in one the best GATE coaching center in Cochin who have helped many of their students to clear successfully. Contact us and book your seat before its too late.